Wednesday, May 9, 2012
"Think you've seen it all? Think again. "
I have heard so many brilliant ring ideas from my customers. This Doctor who theme ring is one of them.
We found we need a little more Doctor Who in our life?
So here is the Tenth doctor, He's ready to hop in the TARDIS and go on timey-wimey adventures!
All my rings are made of pure sterling , not just silver plated.


Hope you like this Doctor who - tenth doctor ring.


$59
BUY
from designer
Tuesday, May 1, 2012
DIY project number 1: Build a house here :)
I am a sucker for Watches. This "Hacker watch " designed by Michael Young
£115.00-130.00
BUY
from designer
Any one want to jump on this Ceramic Skateboards?
Produced by the study of Santiago
Keep this card in your wallet!
The Casino Bottle Opener designed by Kikkerland
$15.16
BUY
from designer
Type on touch screen is painful. Wondering does this work well ? Anyone using it ?
$57
BUY
From Buy.com
Guess what it is? it is a alarm clock :) wake up with bacon smell, sounds motivated?
by Matty Sallin, Daniel Bartolini, Hsiao-huh Hsu.
lurk brushes to hold shoes is a brilliant idea ;)
Designed by Central Station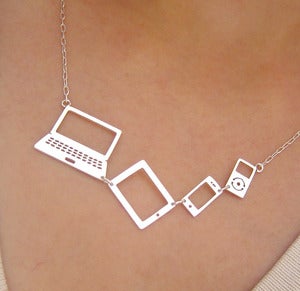 Let's call it Apple Lover Necklace :)
This computer sterling necklace is made for computer lovers, especially apple lovers :) we got ipod , iphone, ipad , Mac book, everything you love about Apple ;)
hope this computer silver necklace can make you a great gift for your Apple fan friends.
This computer silver necklace is made of Pure sterling silver, not just silver plated.
Necklace length : 21" or 53cm
I will definitely bring more fun necklace designs in the future.
This is the Puzzle painting I made for Autism Awareness month. It took much longer time than I thought :)
I see many Louis Vuitton copies, this one is the most hilarious :D
"One of my brilliant customers suggested I make a butterfly ring. The wing concept fits my unlinked adjustable ring style perfectly.
So here we go :)
Butterfly sterling silver ring for butterfly lovers :)
All Animal Silver Rings are made of pure sterling silver, not just silver plated.
I try to keep a Fun & Unique theme for my silver ring designs. Hope this little butterfly ring can make an excellent gift for you."